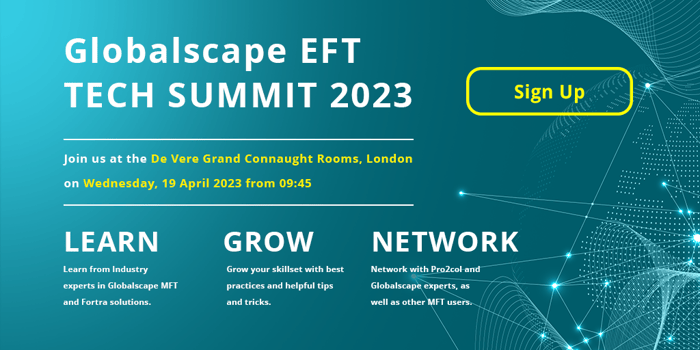 Pro2col are excited to announce the return of our annual Tech Summits. This year the Globalscape EFT Tech Summit will be held at the De Vere Connaught Rooms in London.
If you're looking to learn more about Managed File Transfer (MFT) and don't fancy the usual guides or spending endless hours browsing the web, the Globalscape EFT Tech Summit is the event for you.
It's a free event for new and advanced users of Globalscape EFT. It will give you the opportunity to learn, meet and connect with MFT experts to explore how to make the most out of Globalscape EFT.
When is the Globalscape Tech Summit?
When: The event takes place on Wednesday 19th April from 09:45-16:00.
Where: De Vere Grand Connaught Rooms, London, WC2B 5DA
What sessions to look forward to?
An Overview of the MFT Marketplace
SAML with Azure Active Directory
An Introduction to CloudMFT
Learn how easy it is to implement Disaster Recovery (Live Demo)
Discover things about Globalscape EFT that you didn't know before
And more!
Take a look at the full agenda here.
Who are the speakers?
Pro2col's Head of Technical Dave Hendley will front-line the discussion about CloudMFT. Dave has a long history of working within MSPs, providing infrastructure solutions to businesses in the UK working extensively with both on-premise and cloud technologies. He is a Globalscape expert and also oversees the Technical department at Pro2col.
Senior Technical Consultant Richard Auger will also be joining the Tech Summit. Richard has years of experience in MFT, he delivers installations, support and training, as well as other professional services to allow businesses to maximise return on investment. He will deliver talks on how to get more from your EFT solution and will explore SAML with Azure Active Directory.
Technical Consultant Sean Holdstock works extensively with on-premises and cloud technologies including Networking, Disaster Recovery, Info-Sec, Development, and a speciality in electronic hardware diagnostics. Sean will you how to set up your Disaster Recovery for (almost) instant fixes, plus more!
Pro2col's founder and Managing Director is also joining the line-up. With over 19 years' of experience in the MFT industry he will delivering insights into the MFT marketplace.
Experts from Fortra will also deliver an expert talk on the Globalscape EFT roadmap. So, this really is your chance to learn, connect and grow your skill set with industry specialists.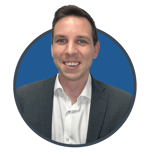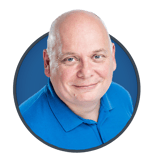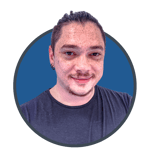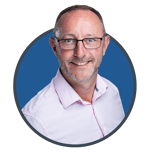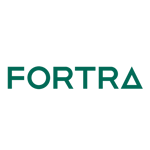 [L-R Dave Hendley, Richard Auger, Sean Holdstock, James Lewis and Fortra]
How to attend?
Sign up for the event here.
It's on Wednesday 19th April 2023, 09:45-1600.
At the De Vere Connaught Rooms, London, WC2B 5DA
We hope to see you there! If you have any questions about the event or would like to know more about Globalscape EFT, our experts are here to help.