A Deep Dive Into The Cost Of

MOVEit

On-Premise,

IaaS

and

SaaS
An essential read for any organisation considering MFT solutions in the cloud.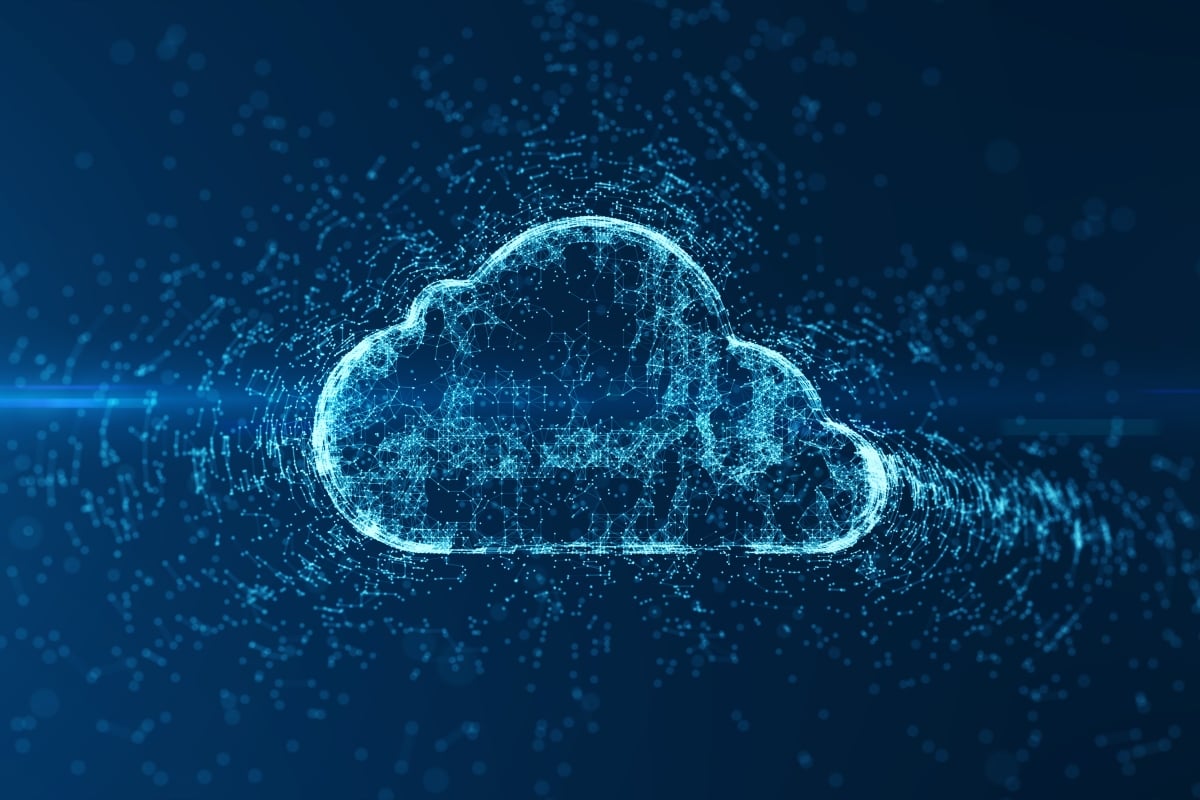 Reading Time: 20 minutes
Written by Chris Payne
If there were ever a disruptor in the slow-moving world of Managed File Transfer (MFT), it
would undoubtedly be the cloud. No corner of IT is immune to the architecture renovator
that is the cloud, including MFT. You may well find that in the average business that utilises
MFT, barely a working hour of the day goes by without a conversation about migrating to the
cloud.

But to what end?

You may well know that there are availability and accessibility benefits to hosting software
solutions in redundant data centres, using shared resources (such as fast internet connections).

You probably also know that using the cloud can eliminate many day-to-day maintenance
tasks from your in-house engineer's workloads. However, concerns remain.
Most importantly: Does migrating (or deploying) to the cloud make financial sense? Another
is: Is the higher long-term TCO (Total Cost of Ownership) offset by the functional gains?
In the following whitepaper, we delve into the different cloud models available for MOVEit,
the costs and the functional benefits. This information should help you make a long-term
decision on how best to host your MFT solution, which provides the best outcomes for your
organisation.
1. On-Premise vs IaaS vs SaaS
Before we begin to compare the financials of each model, let us spend a moment clarifying them. As with most industries, some terms with very narrow definitions end up being used synonymously, and even interchangeably, with others of a broad definition - a confusing practice. Software as a Service (SaaS) is a good example of this. SaaS describes a very particular type of cloud service. However, it is also used as a catch-all to describe all cloud solutions and services. You will need to take note of this.
On-Premise is the easiest to understand. The traditional and familiar model for deploying your MFT. You purchase a license – which you then own – and you install this onto either physical or virtualised hardware - which you also own. Nice and simple.

A good analogy to understand this is that of a car and a garage. Imagine your software as the car and your underlying infrastructure as the garage. In the case of on-premise, you own both the car and the garage.

In the case of the Software as a Service (SaaS) model, you own neither the car nor the garage. Also, you share the car and garage with others (service customers). To simplify, you rent the car (a capability) and the garage (somewhere to host it). As with other industries that use this model, a fundamental difference here is that you have no maintenance costs, no upkeep, your level of skill remains at what is needed to operate the software, and you typically benefit from the shared usage in the form of lower monthly costs.
Finally, we come to Infrastructure as a Service (IaaS) – a halfway house between the two. Companies such as Microsoft with their Azure offering and Amazon with their AWS allow you to rent just the garage (a private garage, of sorts). These services allow you, at a cost, to host virtual server environments in the cloud. The servers themselves are not shared, but the underlying infrastructure is (e.g. the networking). On these servers, you may install and host anything, just as you would on-premise. The result is that you rent the garage but own the car. You get the functional benefits of the cloud, but with the full advantages of owning the software. In particular, on-premise licensing (which can be hosted in IaaS) tends to be favourable over longer periods compared with SaaS. Something we will discuss at length later in the document.
2. Business Drivers for Each Model
Now that we understand the fundamental differences between these three architectural
models, we can begin to derive the advantages and disadvantages that businesses would
use to determine the best fit for their business models and requirements.
To simplify, take a look at the diagram below.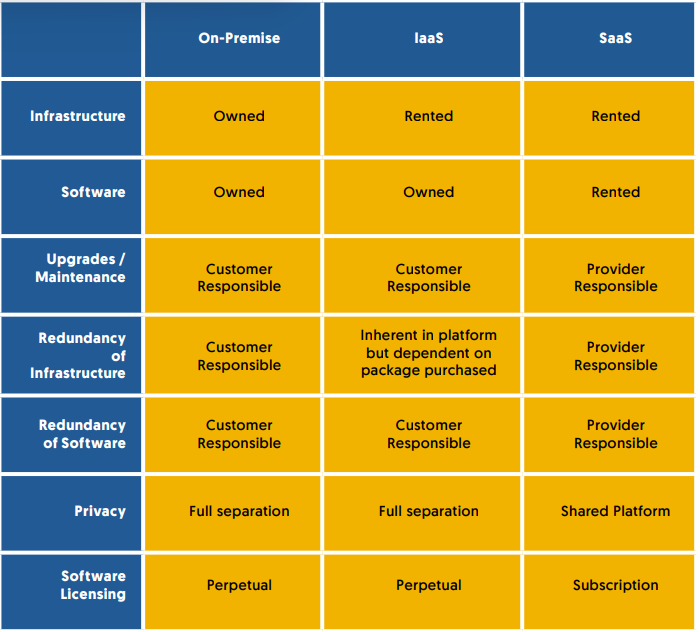 Depending on your requirements for separation of security, cost, and desire to maintain and
upkeep the solution, the three models offer plenty of choice and flexibility.
To simplify, take a look at the diagram below.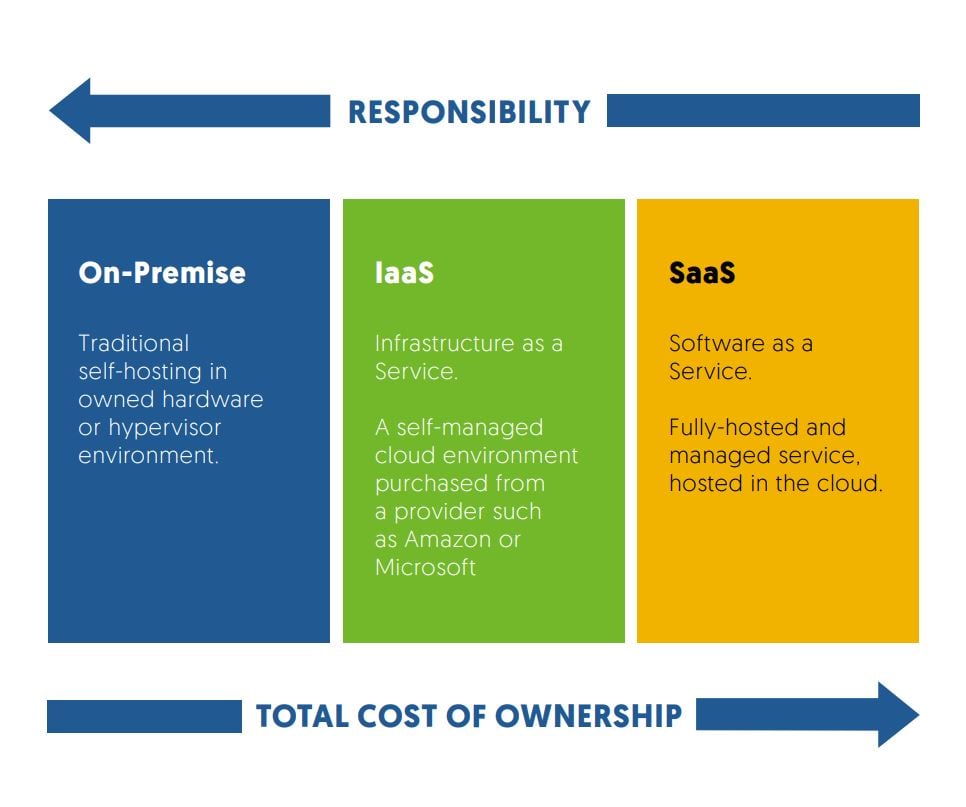 While there can be deviations, differences, and blurred lines depending on various other options available, a popular solution is moving from on-premise through IaaS and onto SaaS, with your level of responsibility decreasing. You no longer have to maintain the underlying architecture and software, nor do you typically own the application licences.

It is arguable, but we could also draw an arrow in the same direction for security. We are not suggesting that SaaS solutions are any less secure than on-premise solutions. Rather, the loss of some elements of control inherent in SaaS, and somewhat in IaaS, represents a risk to some organisations.

In the opposite direction, we see that while responsibility diminishes in the direction of the cloud, the total cost of ownership over a longer time increases. Ultimately, the responsibility is not vanishing into thin air; you are passing it to another party, who needs to cover their increased costs as a result.
Without wanting to make any suggestion, often the middle ground is the most appropriate course of action; and in the particular case of MOVEit, there is significant interest from the marketplace in the IaaS model. Given that it balances a reduction in responsibility (through gained cloud functionality), with a lesser increase in cost, and that almost all organisations now either have an Azure/AWS tenant or are procuring one. IaaS is fast becoming the preferred choice.
3. Calculating the Cost of Each Model
Before we start calculating the total cost of ownership for each model, it is worth pointing out a few caveats.
Neither Progress nor Pro2col publishes MOVEit licensing costs publicly. In this document, we will provide close estimates to facilitate comparison. If you would like up-to-date pricing, please contact sales@pro2colgroup.com.
We will focus on the cost and comparison of MOVEit Transfer specifically, as there are onpremise, IaaS, and SaaS options available for MOVEit Transfer. MOVEit Automation does not have a SaaS offering, however, you may use this document to compare on-premise and IaaS for this solution.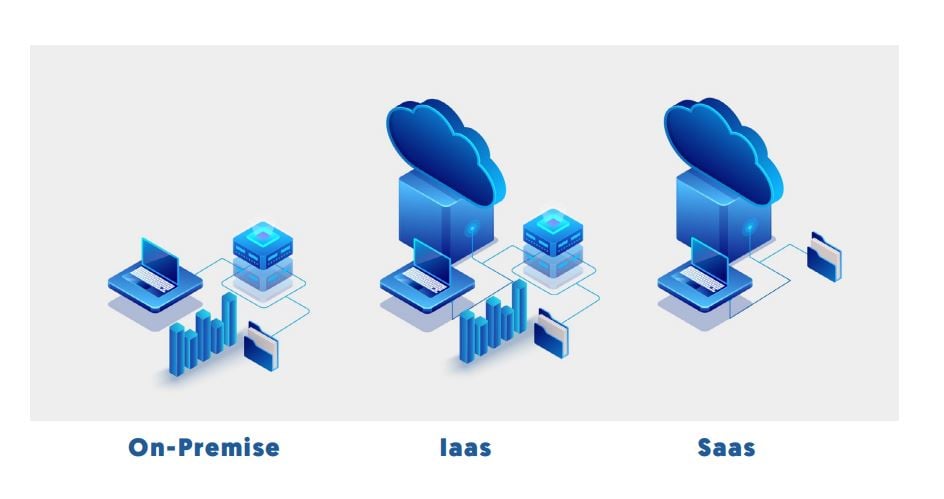 On-Premises
Before we start calculating the total cost of ownership for each model, it is worth pointing out that with an on-premise deployment, you would need to purchase a perpetual licence, which by definition means you need to buy ownership of the software and then optionally pay for support and maintenance each year as a subscription.
MOVEit License Cost: £15,000.00
Yearly Support and Maintenance: £3,000.00
Additional parameters to consider are the fixed costs of human labour for maintenance and the hardware to host either the solution or a hypervisor which is hosting the solution.
Looking at Glassdoor for Application Support Analyst roles. The Average for this role is roughly £50,287.00 per year before tax. If we assume this role is employed under UK law and taxation, we will need to add the employer's National Insurance contribution of £5,683.31 to this value. Giving us a total of £55,970.31.
While it may be unusual to hire someone who is dedicated to MFT, we wanted to ensure we had a rounded value for multiple team members who might dedicate a portion of their time to MFT maintenance and the underlying architecture. This consideration seems appropriate accounting for the small contributions by several people, where the cost from their accumulated contributions is comparable to a full-time role.
According to TechMikeNY, across four commonly purchased 1U servers, the average idle annual wattage is 1,669kWh. The average peak annual wattage is 3,120.5kWh. With the assumption that the server would not be operating at peak at all times, we will make a fair assumption of 50% server utilisation, which gives us a rough estimate of 2,394.75kWh.
As of the time of writing, the average business price for kWh of electricity in the UK is 17.73 pence.
Annual Energy Cost = 2,394.75 * 17.73 = 42,458.91 (£424.59)
Note that we have chosen to include the cost of purchasing hardware. From our experience, we have found that it is unusual for customers to source new dedicated hardware. Instead, they will typically make use of an existing hypervisor.
Putting this all together over five years, you end up with the below-estimated costs.
On-Premises: Estimated Cost Over 5 Years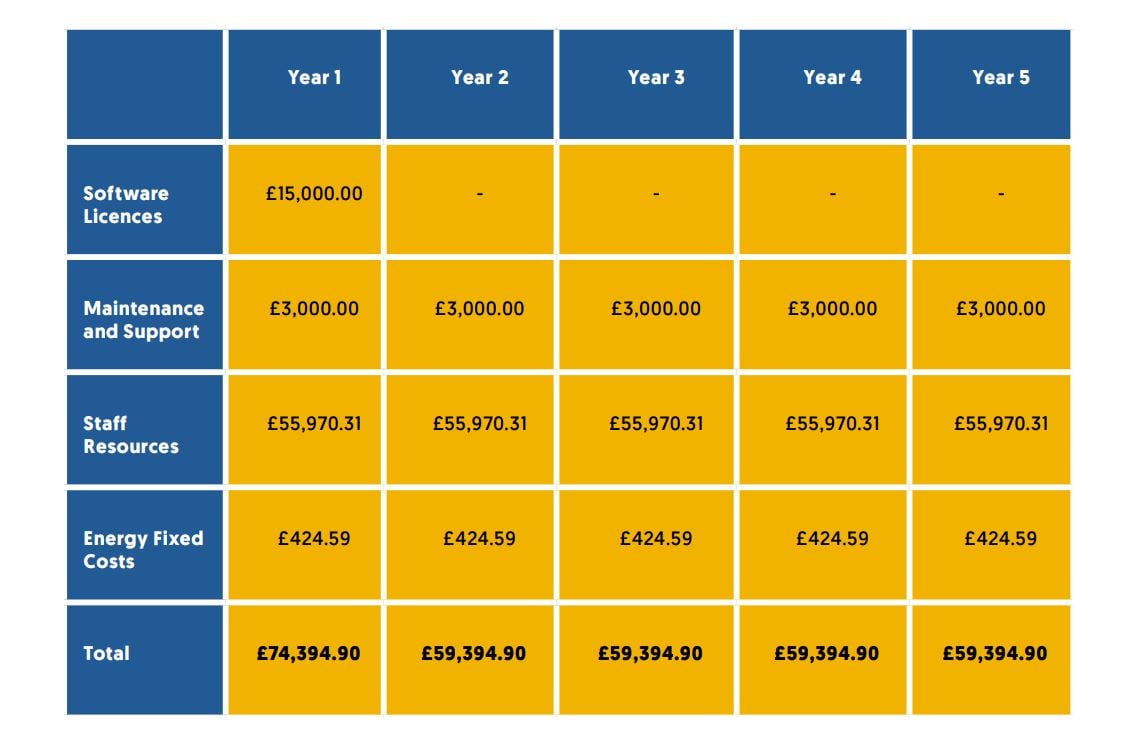 Final Total Five-Year Cost of Ownership (TCO) of around £311,974.50
I must caveat this with several points. We haven't taken into account pay increases for staff, fluctuations in energy costs or potential increases in the cost of maintenance support, which could simply be a price increase or one based on the fluctuation exchange rate between GBP and USD.
Infrastructure as a service
With IaaS, the outlay is slightly different. The licence costs along with the maintenance and support are still required. We will still need someone to maintain the solution albeit with a different skillset considering that the infrastructure is to be outsourced along with the energy and other associated hosting costs.
Concerning licensing, the cost remains the same.
Staffing costs we will also hold at the same level. What would be lost as a requirement of a network engineer would be replaced by someone with Azure or AWS skills. On that note, the primary difference between on-premise and IaaS is the hosting costs. For our example, we will use Microsoft Azure as our cost base, as this is the number one cloud hosting provider on the market. Azure also has significant interoperability with the MOVEit solution set.
Given that the standard hardware requirements for the 2022 release of MOVEit Transfer needs 8 CPU cores, 16GB of RAM and 1TB of disk space, we have selected the A8 v2 virtual machine in the UK South region on pay-as-you-go, with a standard HDD - with a cost of £504.58 per month or £6054.96 per year.
Placed into our five-year TCO model, the chart is displayed below.
IaaS: Estimated Cost Over 5 Years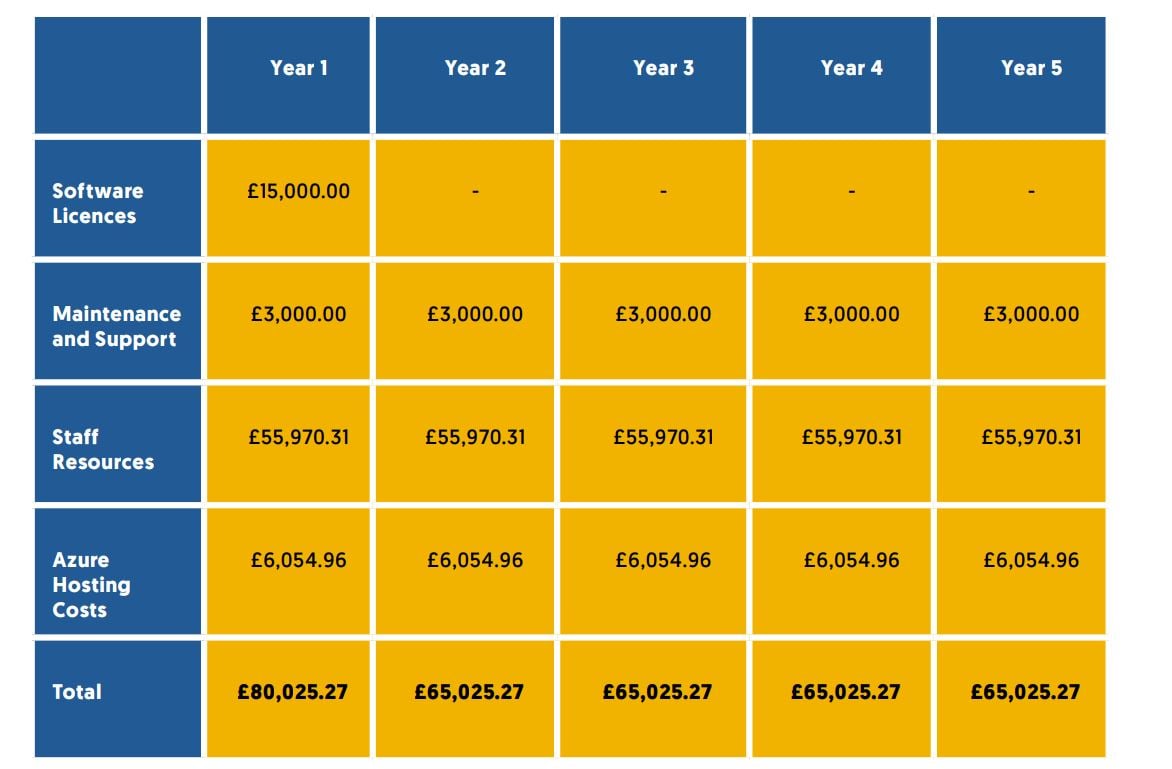 Final Total Five-Year Cost of Ownership (TCO) of around £340,126.36
Again, to caveat this, we haven't taken into account pay increases for staff, increases in Azure prices or potential increases in the cost of maintenance support, which could simply be an
increase in price or one based on the exchange rate between GBP and USD.
Software as a Service
SaaS is a significant outlier in this comparative process, for the most part, due to its completely different licensing model. MOVEit SaaS licensing moves from a largely unlimited user/storage/bandwidth model in on-premise and IaaS, to a per-user model in SaaS.
Therefore to make a sensible comparison, we need to estimate the average number of users a medium-sized business in the UK would need. The UK's Department for Business, Energy and Industrial Strategy reports that a medium-sized business in the UK has between 50 and 249 employees, with an average of around 100 users - the figure we will use for our estimate.
We have excluded external users from our estimation, as they would only be included in a full costs analysis.

The per-user per-year subscription costs are around £140.00, with a one-time set-up fee of £1,471.00. Prices are subject to exchange rates and rounded. We also recommend that you confirm prices with your account manager or a member of our sales team. The SaaS model includes the hosting, redundancy, maintenance and support costs in the subscription price. You should also expect some outlay on labour for administration.
Placed into our five-year TCO model, the chart would look as follows.
SaaS: Estimated Cost Over 5 Years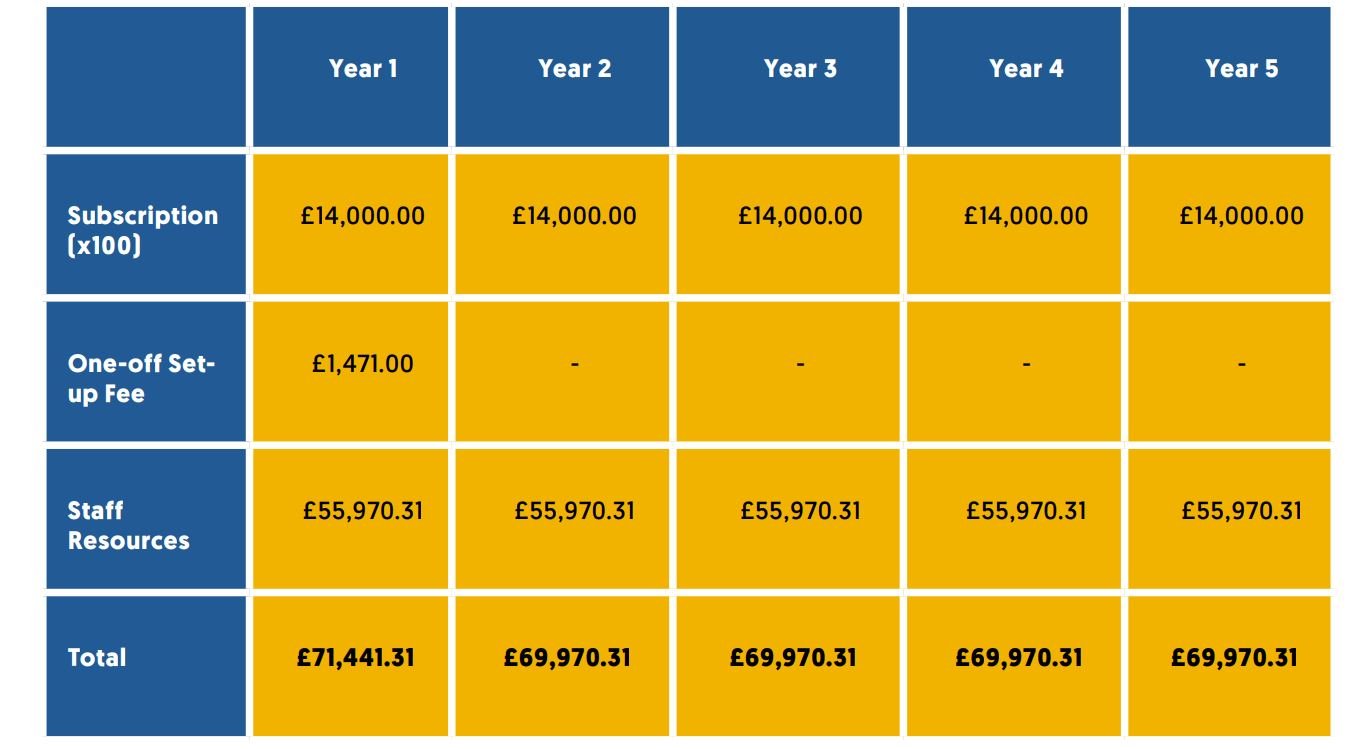 Final Total Five-Year Cost of Ownership (TCO) of around £351,322.55
It is important to point out that this is difficult comparatively as the perpetual on-premise and IaaS models both offer unlimited user accounts. As the number of users increases with the
SaaS model, the more it veers away from the costs of the other two.

We should note that salary increases and costs are excluded, as that is specific to each organisation.
Conclusion
Now that we have all three models costed, we can think back to our original diagram in which we had the three models side-by-side with the arrows of responsibility and cost moving in different directions. In summary, as you outsource to the cloud through IaaS and SaaS, the cost of the solution increases. Something that hopefully is demonstrated by this document.
In this comparison, we exposed the difficulties of comparing SaaS with other models, particularly in the case of unlimited versus user-based licensing. Yes, it is a popular choice among small, medium and enterprise-level businesses to assume that SaaS is the preferred option, almost becoming fashionable. However, given that the larger the organisation, the more expensive the SaaS model becomes, this might not be the right choice when considering the financial implications.
Despite this, you may have a balance of factors to consider, where a higher spend is necessary to get the functionality to meet all requirements. Finances are a strong dictator of direction, but the usability and the capability to support and maintain the solution are all levers that can influence the final choice. To fly to the moon, you need a rocket ship, not a hot air balloon. Both take you in a vertical direction, but only one can get you where you need to go.
Whether you find yourself in a better place to choose your best solution based on what you have read above, or you need to know more to make a sound decision, Pro2col is the right company to provide you with vendor-agnostic advice. We live and breathe MFT, and have the pedigree to prove it - with over 18 years of experience in the MFT market.
Save time, lower costs and improve efficiency by moving your managed file transfer to Progress MOVEit on Microsoft Azure Cloud.