Pro2col's motto is 'doing things right, doing the right thing.' We're always striving to make a positive impact in every aspect of business, including working hard to support charities and the local community.
As the year draws to a close, it's only fitting to take a step back and reflect on everything we've achieved as a team. Together we raised a whopping £4,339 for charities such as ManUp, Save the Children and Dorset Mind.
The Great Pro2col Bake Off
Our talented team of bakers baked their hearts out on the 10th of October in support of #Worldmentalhealthday. Every donation made was matched by Pro2col, resulting in £322 raised for Dorset Mind. Dorset Mind is a pioneering local charity supporting people with mental health challenges whilst educating and challenging mental health stigma.
Fiery Hot Challenge
In November, we took on the ultimate hot sauce test in the 'Hot Ones Challenge'. This event saw the team consume chicken coated in various strengths of hot sauce, ranging from your everyday chill sauce to mind-blowing ones with over 1 million Scovilles.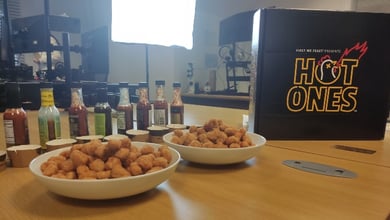 The challenge is famous across Youtube, with celebrities such as Gordan Ramsey, Tom Holland and Bear Grylls taking part. 10 of us got to the hottest sauce and some even attempted it twice! There was no hiding our red faces, we streamed the event live on Facebook for all to see. In total, we raised £375 for MANUP? a charity dedicated to supporting men's mental health.
Christmas Jumper Day
Businesses across Christchurch teamed up to raise £1861 for Save the Children's #Christmasjumperday on Thursday 8th December. We smashed our target and even raised £200 more than last year. An amazing effort by everyone involved and it gets even better. The government have pledged to match all donations, so that's twice as much for Save the Children.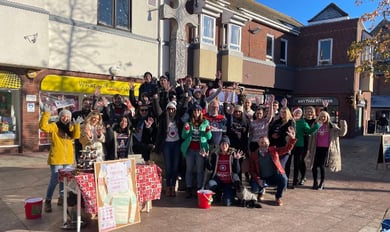 On the day, the team gathered in Saxon Square to sing carols and sell sweet treats. The fundraising event finished with a community photo, where we were joined by local solicitors Frettens and recruitment consultants Dovetail.
All money raised has gone to Save the Children. The charity aims to change children's lives in 118 countries around the world. Their work is only possible thanks to the 5 million UK supporters wearing a Christmas Jumper, and their local shops organising fundraising events.
Back to nature- Clearing Overgrown Paths
Some of the team have also been clearing litter and overgrowth from the Stour Valley public pathway in Christchurch. The overgrowth made it impossible for local residents to enjoy the scenic walk.
The team made a good start with over 100m of growth cleared and will be picking up this project again next year.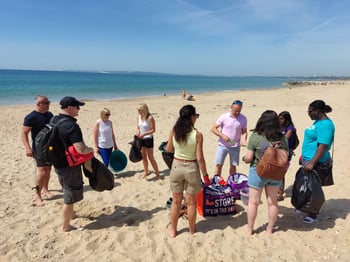 Annual Beach Clean
MD James Lewis is very passionate about preserving marine life and our coastline. For years James had been organising beach cleans for the Marine Conservation Society, largely for the Great British Beach Clean. This year, we teamed up with our channel partners at Softcat to collect several bags of rubbish filled with plastics, bottle caps, rope and food wrappers. It's surprising how much we can collect in a short amount of time with a bit of help!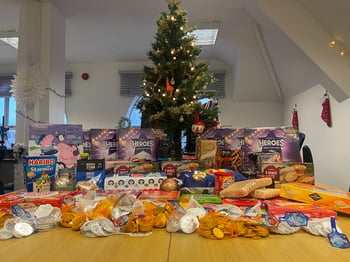 Food Bank Donations
The Pro2col team makes multiple donations to food banks each year. During the festive season, we supported the local Christchurch food bank by collecting an 'advent calendar of gifts' with the donations being something different every day in December. We collected items such as dry goods, sweet treats, Christmas dinner essentials and selection boxes!