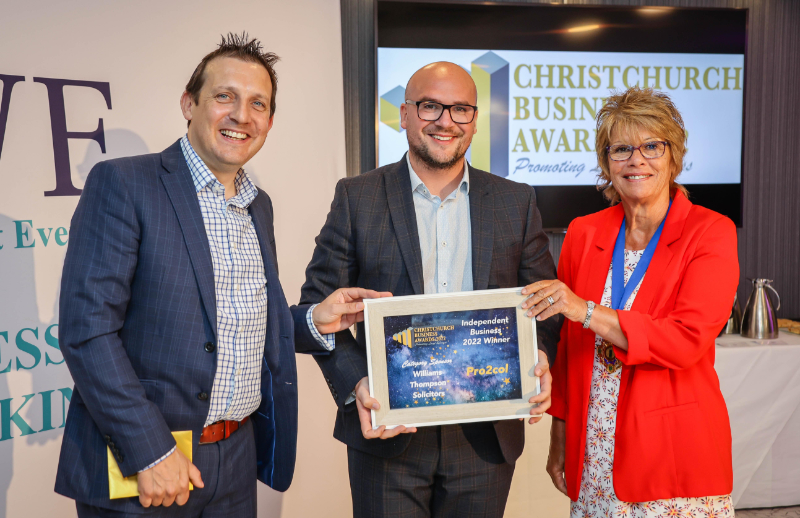 The Independent Business of the Year Award recognises vision, innovation and entrepreneurial spirit in Christchurch.
On 28th June, Christchurch hosted its first Business Awards Ceremony. The Christchurch Business Awards were founded by Nigel Reeve to shine a spotlight on accomplished local businesses – with Christchurch Mayor, Avril Coulton, as the guest of honor presenting the 14 awards.
The awards received over 200 entries, and we were extremely proud to be invited to the ceremony at The Captain's Club as shortlisted finalists in the category – let alone coming away as winners! As the second category to be announced on the day, our Operations Director Matthew Kyprianou took to the spotlight to collect the award.
James Lewis, Pro2col's MD, established the business in 2004 by as a two-person operation. 18 years later he employs 27 people in the centre of Christchurch and has over 800 customers nationally. He shares his gratitude on the win:
"I'm delighted that we've won the inaugural Christchurch Business Award for Independent Business of the Year. We have an amazing group of talented, positive people that make coming to work each day a joy and I'm so pleased that their efforts have been recognised. As a team we're really proud of what we've already achieved after 18 years, but with lofty ambitions we're still at the start of our journey and extremely excited about the journey ahead."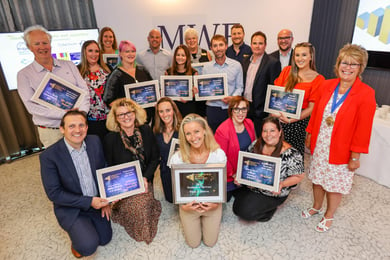 Humbling experience
It was humbling to be in the room with some of the best local entrepreneurial talent Christchurch has to offer – across a hugely diverse range of businesses and industries. We'd like to take this opportunity to congratulate all the finalists and award winners, in particular Mad4dance founder Julie Laming who won Health, Beauty and Fitness Business of the Year category, and came away with the overall Business of the Year Award – on her birthday no less!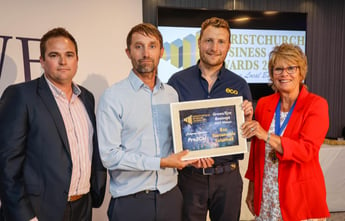 Eco Award Sponsorship
As an environmentally conscious business, Pro2col felt compelled to sponsor the Eco/Green business award. Sales and Marketing Director Glynn Henry had the honor of presenting the award to the local green business, Eco Sustainable Solutions, who produce and supply high quality, sustainable landscaping products.
Despite the challenges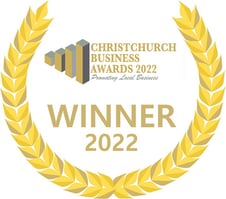 It's been a tough time for small and local businesses during the pandemic, but moments like this really make all the hard work worth it. All entrants should be proud of what they have achieved.
In the face of some challenging times (COVID19 and other global events in 2021/22) our Managed File Transfer consultancy forged an upwards trajectory, posting three record financial quarters and ending 35% overall on the previous financial year.
The team at Pro2col is incredibly proud to be a local business that has gone from strength to strength over the years, and to have been recognised by the Christchurch Business Awards.