Throughout October the Pro2col team and neighbouring businesses collected supplies for the food banks St Joseph's Church in Christchurch and Immanuel Church in Southbourne.
Both food banks are passionate about helping people at crisis point in their lives and supporting them through to the other side.
Many food banks across the UK are expecting an increase in demand so Pro2col decided to chip in and help those in need. Ailsa Gibbs, who drove this donation initiative said:
"The team at Pro2col were inspired by the example of Marcus Rashford to ensure that no child goes hungry during these difficult times. More families are reliant on foodbanks as a result of the pandemic and going hungry doesn't just impact children's welfare today, it can affect their long-term welfare and future prospects".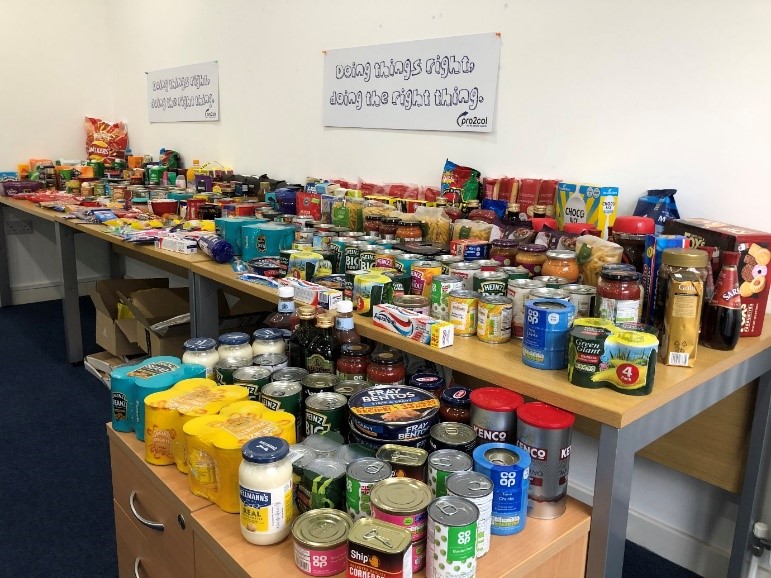 Pictured: Pro2col's food bank collection
As harvest festivals are cancelled and older volunteers are placed in the at-risk category, food banks face shortages in donations and manpower. This is especially concerning given that statistics from The Trussell Trust which show food banks were already experiencing increased usage, even before the pandemic. They're now predicting a 61% increase in demand for food parcels across the UK. Pro2col wants to support the work many organisations and individuals are doing to prevent people from going hungry.
Ailsa said: "The team all recognise how fortunate we are to have security in these difficult times and have pulled together and donated so generously to support our local community".