Free version of WhatsUp Gold now available
Last week Progress announced the launch of a new edition of WhatsUp Gold was hitting the market. But this wasn't just a bulked up version of what had come before, with a broader feature set. This was a free version of WhatsUp Gold.
You read that right. Free. No obligations. No one-month free trial. WhatsUp Gold available at no cost.
What's the catch?
There is a catch (obviously).
WhatsUp Gold Free Edition is restricted to 20 points of features - which in a real world application is not going to allow a wide enough scope of device monitoring or deliver a rich-enough feature set to fulfil all the requirements of most businesses. But, for smaller organisations, or anyone who'd like a try-before-you-buy experience, this could be a perfect fit. You'll get the chance to test drive the award-winning features, including virtual monitoring, alerting, network discovery, mapping and reporting which come as standard, and check out the add-on features like Application Performance Monitoring and Log Management.
You also don't get any technical or customer support with the Free Edition, or the Failover Manager services that allow you to reduce network monitoring downtime.
Compare WhatsUp Gold Free Edition to the Premium and Total Plus versions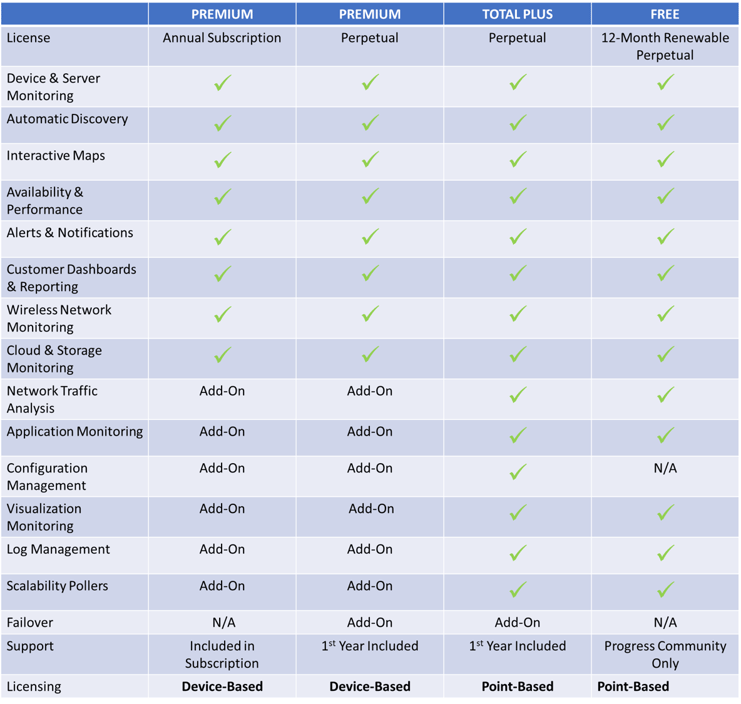 Is WhatsUp Gold Free Edition any good?
This is designed to provide an alternative to some of the other low cost or freemium networking monitoring solutions in the marketplace. No budget, bootstrapped start-ups or keen students or independent ma and pa businesses could find some real value here. No risk. No cost. What's not to love?
It's a great idea from the team over at Progress. Supply a network monitoring solution that can grow in tandem with a new (or growing) business. Looking at the rest of the market it really does seem to be a no-brainer.
Would you like to know more?
Are you interested in a network monitoring solution and would like to see more of what can be achieved with WhatsUp Gold? You can book a call with one of our solution specialists here.