Introducing the GoAnywhere Tech Summit for 2023 ! On the 11th October Pro2col are joined by guest-speakers from Fortra for our FREE annual online Tech Summit.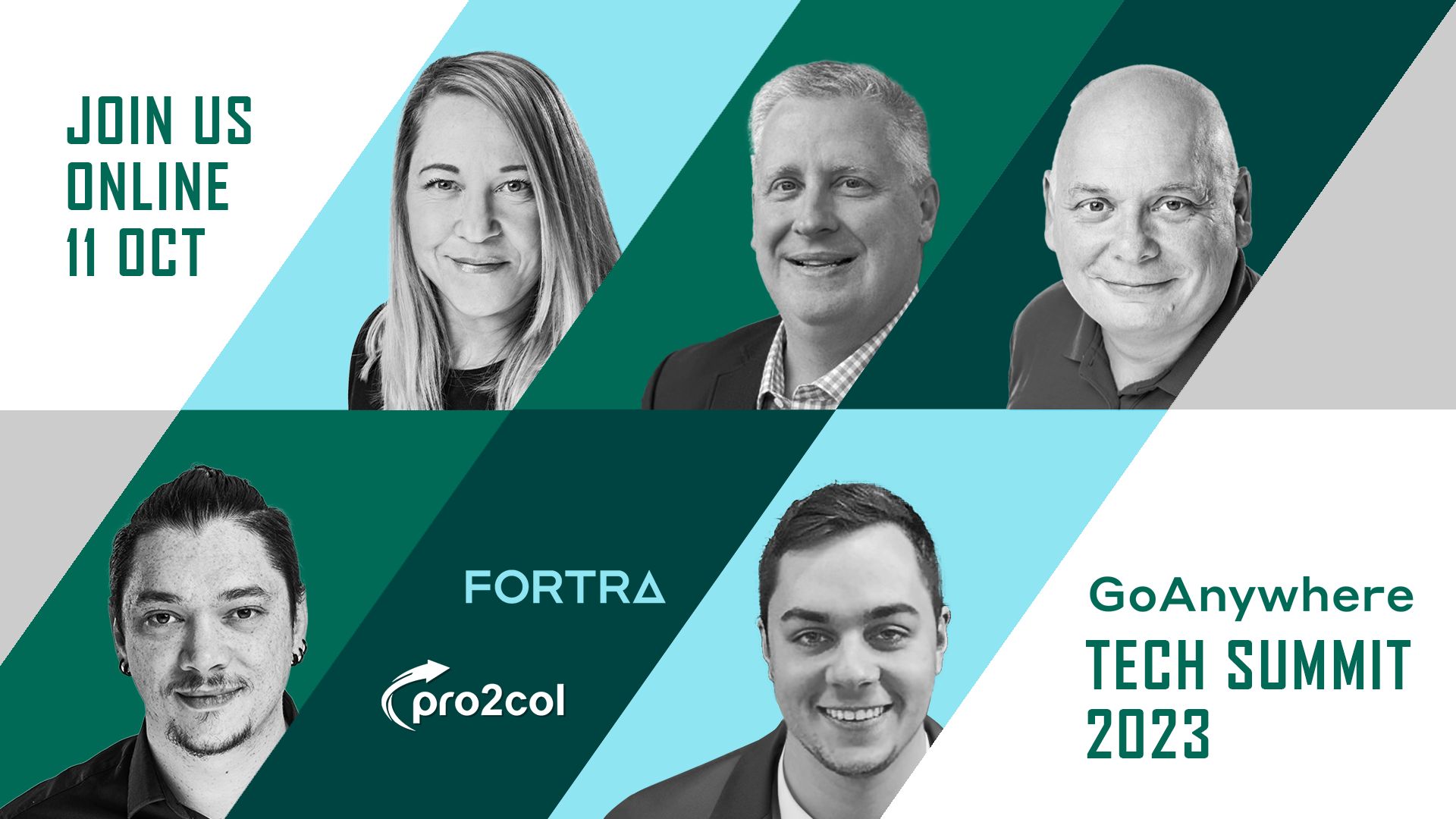 The day is packed with expert-led seminars, Q&A sessions and networking opportunities, and provides a unique opportunity to delve deeper into the functionality, features and technical aspects of GoAnywhere Managed File Transfer.
Each of the sessions is designed to give you an insight into how GoAnywhere is being used by our clients, the exciting integrations and workflows that our technical experts have crafted to make businesses and their data transfer requirements more efficient, underpinning critical processes to deliver continual value. We've also invited key speakers from Fortra to deliver sessions, including a keynote address from Brian Pick, the General Manager of Fortra's Manged File Transfer division and a GoAnywhere road-map session from Michael Barford a Senior Solutions Engineer at Fortra.
When is the GoAnywhere Tech Summit?
Wednesday 11 October 2023 | 10.00 - 15.00
Where is the GoAnywhere Tech Summit being held?
Join us online!


Agenda
10:15 Welcome and Introductions
Introductory remarks, housekeeping and introductions to the speakers from Michael Ramalho, Head of Marketing at Pro2col.
10.25: Keynote Address
Brian Pick, General Manager of Fortra's Managed File Transfer Business provides the keynote opener for the Go Anywhere Tech Summit, discussing the future of GoAnywhere and how it fits in the wider Fortra portfolio of security solutions.
10:45: Reduce. Re-use. Recycle: Deploying common code in GoAnywhere to improve efficiency
Pro2col's Richard Auger explains how calling commonly used, pre-created functions and projects in GoAnywhere can streamline your workflow creation and make the deployment of master projects quicker and more effective. With demos of how to call regularly used functions and some case studies describing the impact this could have on your workflow processes.
11.20 Tea and Coffee Break
11.45: Data capture evolved to its ultimate form: Secure forms for web users and SharePoint integrations with workflows in GoAnywhere
GoAnywhere guru Sam Fry walks us through how to automate uploads and downloads from SharePoint using workflows; and how integrating this with the use of Secure Forms can allow for the capture of metadata submitted by web users. She guides us through the basic set-up process and the use cases for automatically updating SharePoint data via web forms.
12:10 Alexa - Launch my GoAnywhere Workflow: APIs, Automation and Alexa
Technical expert Sean Holdstock has been experimenting with how REST API and Alexa skills could be integrated into GoAnywhere to trigger data retrieval and processing with the Alexa assistant experience. He'll run us through the creation of the Alexa skill, and the integration with GoAnywhere before attempting to use Alexa to deliver a piece of data to the audience... what could go wrong?
12.30 Lunch Break
13.30 GoAnywhere Roadmap
Fortra Senior Solutions Engineer, Michael Barford gives us a sneak peek at the future development roadmap for GoAnywhere, talking us through the upcoming features, developments and updates that we can expect.
14.30 Q&A Session
We open up the floor and let you grill our panel of experts. Ask them anything (though it's probably best if you ask them about Managed File Transfer)
15.00: One-to-One Sessions
An opportunity for you to book 1-2-1 sessions with our experts. 15 minute slots where you can ask for specific guidance, pick their brains or just have a chat about workflow or use case opportunities that you'd like to investigate in greater depth.
Sound good? Hit the Register Now button to reserve your spot.