07 December 2021
Advanced Cyber Solutions will strengthen Pro2col's expanding footprint in secure, managed file transfer, workflow automation and integration consultancy.
Pro2col have today announced the acquisition of Advanced Cyber Solutions (ACS), an industry leader providing specialist consultancy in secure, managed file transfer led by Director Chris Payne.
ACS customers have benefited from specialist technical knowledge and exceptional customer service, which will continue to strengthen under its new ownership.
Chris will be joining Pro2col as Technical Director, driving forward the company's evolution into a broader data integration consultancy and supporting its continued growth.
Pro2col founder and Managing Director James Lewis said: "I have been in contact with Chris Payne at ACS for many years and have been really impressed with the growth and reputation he has built. His expertise in the managed file transfer domain, coupled with his wider information security product knowledge, is the perfect fit. I'm delighted that Chris is joining the team as our Technical Director for this very exciting time at the company. We're looking forward to getting to know his customers and supporting their requirements together."
The combined customer base will benefit from a wider scope of knowledge and expertise gained implementing solutions across a greater range of industries and regions. Chris brings in-depth knowledge of managed file transfer to an already globally recognised team and adds his exceptional information security expertise as well.
Chris said: "ACS was founded on the principles of being customer first, one hundred percent of the time; and I am always very pleased to hear feedback from customers confirming their positive experiences when working with us. I am excited to be bringing ACS and our customers into the Pro2col family where that customer experience will complement Pro2col's already renowned and exemplary technical expertise."
Pro2col simplifies the process of selecting, implementing and supporting the best managed file transfer, workflow automation or integration tool for a business' functional requirements and budget. Technical experts work with customers for as long as they need. These relationships are ongoing beyond project delivery, with individuals and organisations continuing to work with Pro2col as requirements change.
Pro2col and ACS share a similar ethos, both committed to always doing what is right for the customer, continually building knowledge and expertise, challenging the marketplace and enabling a community of technology users to maximise the value of their solution.
This acquisition forms part of Pro2col's wider growth strategy, extending capabilities to support more businesses with their infrastructure and continuing their year-on-year growth trajectory.
About Pro2col
Pro2col are independent experts in secure managed file transfer, workflow automation and system integration, specialising in this technology since 2004. Our technical consultants have delivered over 800 solutions across the globe, for a wide range of industry sectors and use-cases. Clients include KPMG, the NHS, RSA Insurance Group (Royal Sun Alliance), Prudential and TalkTalk.
Pro2col technical consultants advise organisations through the different stages of their file transfer and integration project to make sure it is a success. This includes scoping requirements, product demos and proof of concept / software evaluations, negotiating the best deal with vendors, installations and training.
Pro2col are providers and developers of the only vendor-independent certified file transfer programme, the Certified File Transfer Professional.
Find out more at https://pro2col.com/ or speak to an expert on +44 (0) 20 7118 9640.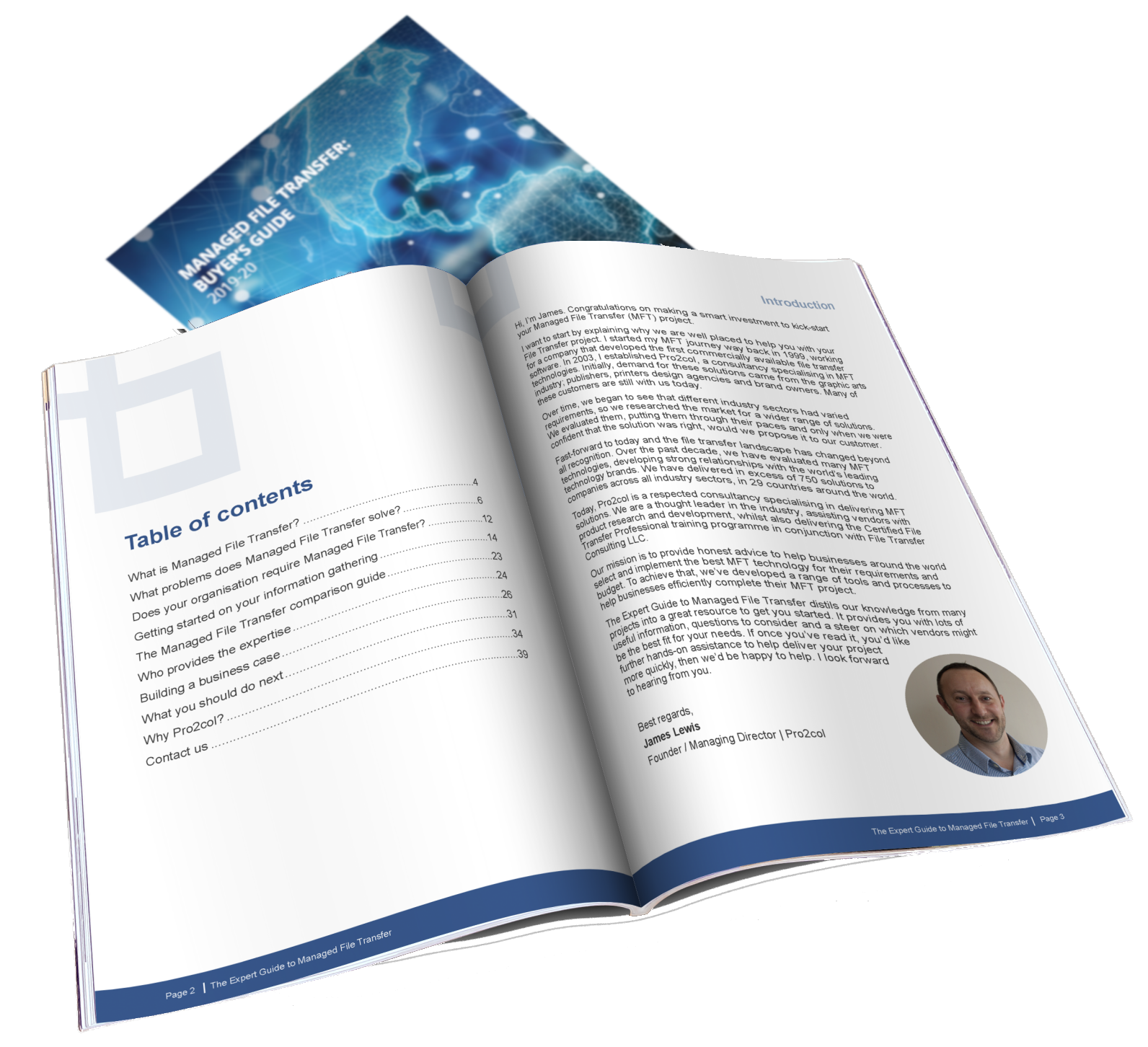 Managed File Transfer Buyer's Guide – Start your research here
What is MFT and how does it enhance security, productivity, compliance and visibility? This free guide is compiled from 16+ years' experience. It includes definition, product features & use cases.