As a file transfer professional, you are so busy staying on top of changes in legislation and technology that you don't always think about your qualifications. You run the risk of your skills in this niche area of technology going unrecognised. But there are always new security threats, compliance requirements and emerging technologies that take up your time.
The Certified File Transfer Professional (CFTP) programme is a low cost and quick way to certify and enhance your knowledge. In fact, it is the only qualification of its kind in the world and will boost your career in so many ways.
1. Vendor independent
The CFTP programme is the only vendor-independent file transfer certification. This means you are not just learning how to use one particular piece of software, but gaining knowledge that is transferable across all solutions.
2. Employability
Leading organisations around the world hire CFTP qualified staff, making it a great addition to your CV.
3. New knowledge
You will gain new file transfer knowledge to put in place in your organisation, including what the GDPR and PCI-DSS requirements mean for file transfer.
4. Learn your way
Participants benefit from a flexible study approach, with online training, downloadable study guide and videos. This means you can study when it suits you, whatever time of the day or night.
5. Exam
Take the open book exam whenever you are ready. You have three attempts to pass and will receive your downloadable certificate when you do.
6. CPD certified
The CFTP course is CPD accredited. This means it has been independently assessed by the CPD Certification Service, and meets their rigorous standards. You'll be able to add the course to your CPD record.
7. Digital accreditation
You will get a digital badge to add to your email signature, LinkedIn profile or elsewhere to share your success.
8. Unlimited access to resources
Maintain access to the resources in the future, so you can continue to use and refer back to them.
9. Get your qualification quickly
There are no lengthy modules or waiting for results. We estimate that most data transfer professionals can complete the CFTP programme within eight hours of study time. That's going to differ, depending on your existing knowledge, but even so, it's a quick solution to getting a new qualification.
10. Low cost
The CFTP programme is a low-cost way to improve and certify your knowledge at only $299 for a single user. Plus, we're offering a 10% discount to readers of this blog – just use the code CFTP10 at the checkout.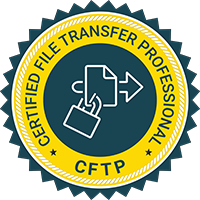 Do you have a new team? Or are you working with a new file transfer solution?
Get product-specific or vendor-independent training from the file transfer experts with over 16+ years' experience.