On Wednesday 8th November, Pro2col are set to join a panel of industry experts in a live webinar to explore the differing benefits of Managed Filed Transfer (MFT) and Enterprise File Sync and Share (EFSS).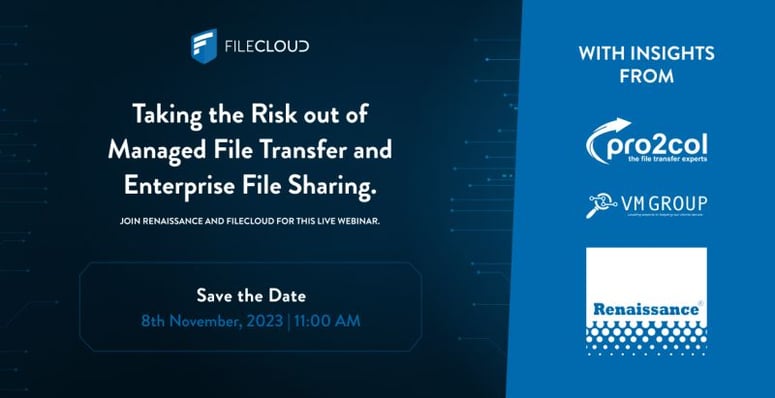 In today's rapidly evolving global business landscape, secure file sharing and collaboration remain essential for maintaining operational efficiency. Managed File Transfer (MFT) and Enterprise File Share and Sync (EFSS) solutions take centre stage as we explore how each technology can benefit a growing international organisation.
A highly-experienced panel of experts are poised to discuss the differing benefits of MFT and EFSS in this upcoming live webinar. What are the key differences between the two technologies? Which is best-suited to ad-hoc and P2P sharing? Where does MFT hold the edge over EFSS solutions?
Join Pro2col's Strategic Alliances and Technical Director Chris Payne, Andy O'Gorman FileCloud's EMEA Channel Partner Manager and Dr Vivienne Mee, the founder of VM Group as they provide valuable insights and help you make informed decisions on which type of file-sharing software best aligns with your infrastructure or requirements.

Agenda
11:00: Business Introduction from Michael Conway, Director of Renaissance
11:05: Taking the Risk out of Managed File Transfer, Enterprise File Sharing and Content Collaboration with Andy O'Gorman, EMEA Channel Partner Manager at FileCloud
11:30: VMGroup Presentation from Vivienne Mee, Founder of VM group
11:35: Pro2col Presentation with Chris Payne, Pro2col's Strategic Alliances & Technical Director
11.40: Panel Discussion
11:50: Q&A Session
Watch On-Demand