File transfer is a continually evolving landscape of new compliance requirements, changing security standards and enhanced product features. It's also notoriously difficult to prove your knowledge to current or future employers.
The CFTP is the only vendor-independent file transfer training programme that will enhance and certify your knowledge.
It is ideal for IT professionals wanting to learn more about secure file transfer, or those wanting to certify existing knowledge ahead of their next promotion or job move.
This low cost user-friendly e-learning programme will have a big impact on your IT career.
CFTP benefits

Become more employable
Leading companies in finance, insurance, consulting and many other industries hire CFTP qualified staff around the world. Hundreds of people across four continents have been trained on file transfer concepts and technology though the CFTP programme.

CPD certified
The CFTP course is CPD accredited (Continuing Professional Development). This means it has been independently assessed by the CPD Certification Service, and meets their rigorous standards. You'll be able to add at least seven hours to your CPD record.

Update your knowledge
Data protection law and file transfer technology continually evolves. CFTP knowledge can contribute towards key areas of compliance and standards such as GDPR or FIPS 140-2. Plus it's vendor-independent, so knowledge is transferable across different products.

Online course
This is easy to consume online training. Work through the course materials at your own pace, then take the open book exam when you're ready. It is completely flexible around you, whatever time of the day or night.

Created by experts
The CFTP certification programme was created with the help of well renowned experts within the file transfer industry. Contributors include file transfer solution vendors as well as consultancies and professionals.

Quick and cost-effective
There are no lengthy modules or waiting for results. We estimate that most data transfer professionals can complete the CFTP programme within eight hours. It is a low cost way to improve and certify your knowledge.
Getting started is simple:

STEP 1 : Purchase the course

STEP 2 : Work through course content

STEP 3 : Take the open book exam

STEP 4 : Download your certification
Downloadable study guide
8 accompanying video lessons
Full lifetime access to resources
Downloadable certificate of achievement
CPD certificate can be requested
Digital badge for CVs, LinkedIn etc
Lesson 1: Managed File Transfer (MFT) Concepts
Module includes the following:
When to use and when not to use MFT
Clients and servers – what are the differences?
How different protocols provide data at rest and data in motion
Introduction into encryption, hashing and PKI, with practical examples
Overview of IPv4 and IPv6 and how changes may affect MFT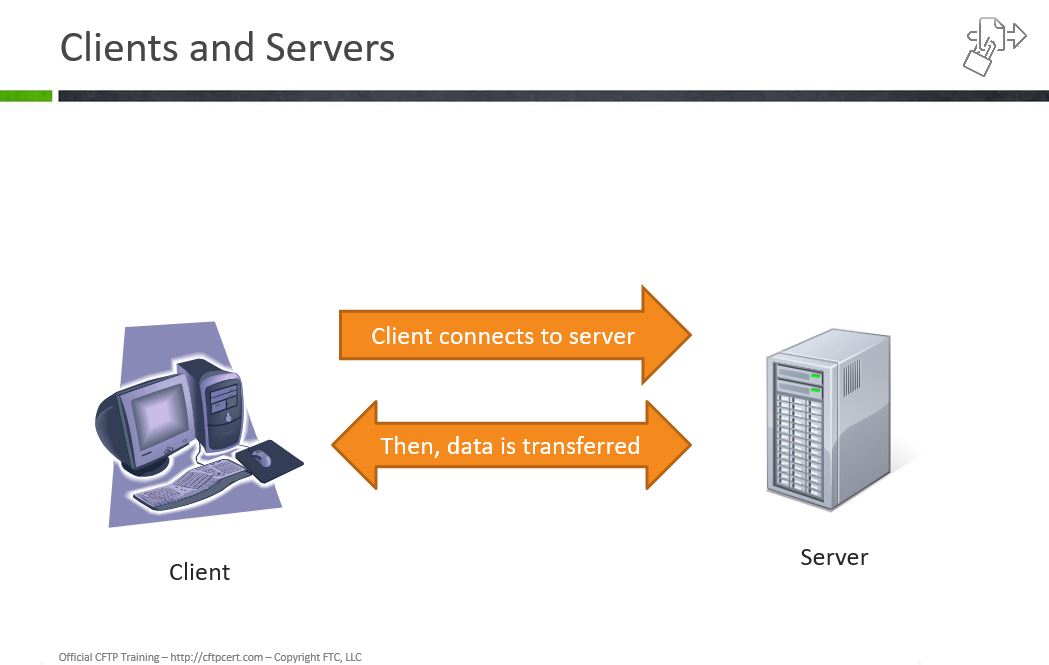 Lesson 2: Basic Protocols
Explains how the commonly used file transfer protocols operate:
FTP and FTPS – what they are, how they work
Active versus Passive mode
Implicit versus Explicit mode
How SFTP works and why you might want to use it
Key and certificate authentication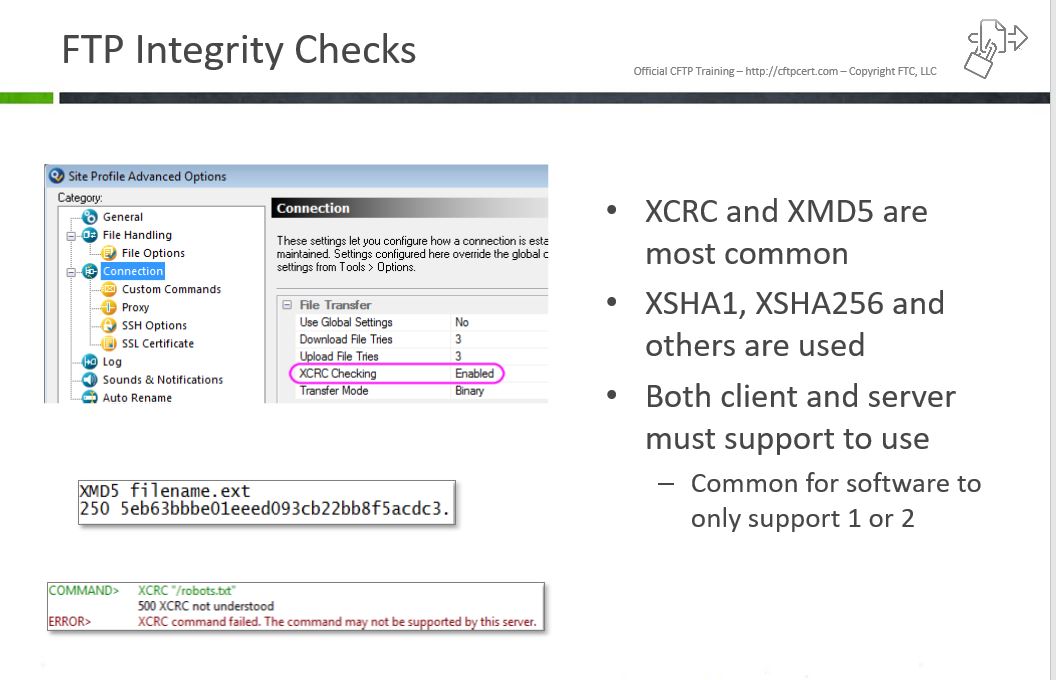 Lesson 3: Advanced Protocols
Examines other protocols that may be used:
HTTP, HTTPS, advanced web-based file transfers and WebDAV – how and where you would use each one
Email protocols
NDM (Connect:DIRECT)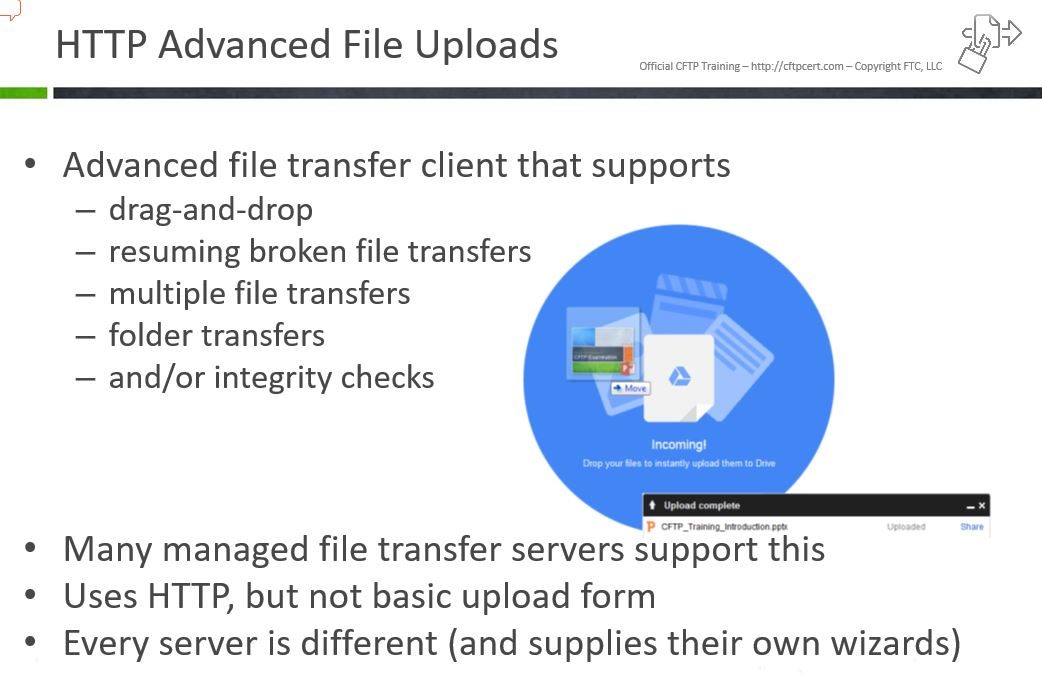 Lesson 4: Applicability Statement Protocols
Takes the mystique out of the AS* protocols:
Detailed review of AS1, AS2 & AS3
Synchronous versus Asynchronous
MDNs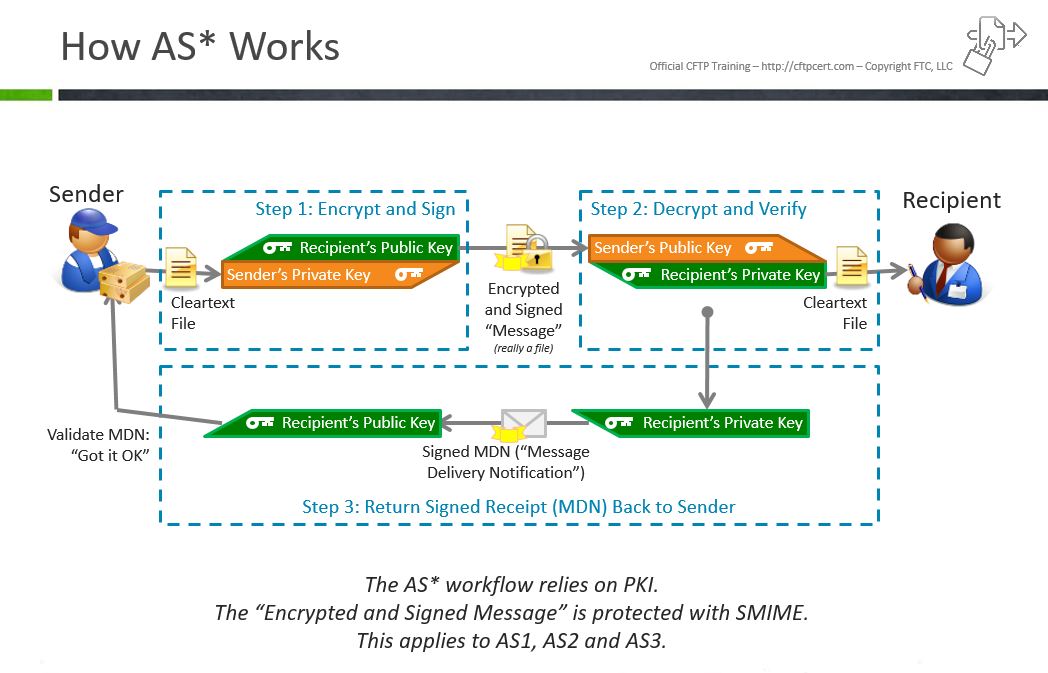 Lesson 5: Accelerated File Transfer
Covers UDP-based file acceleration and related techniques for transferring large files quickly:
Why UDP is preferable over TCP for large transfers
Multi-threading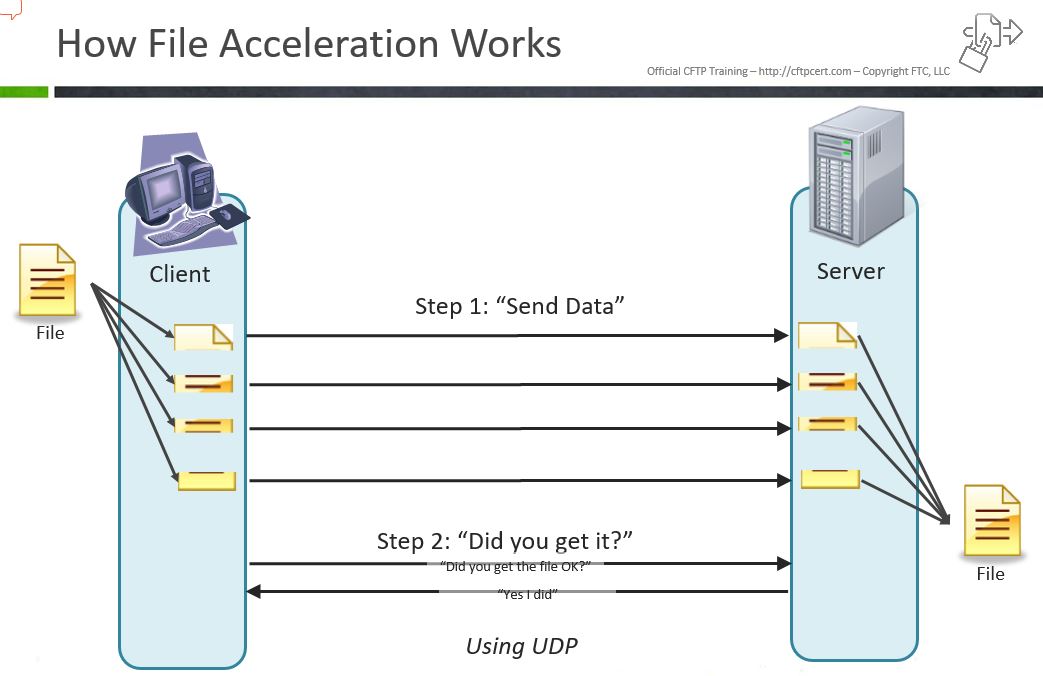 Lesson 6: File Synchronization and Sharing
A look at this fast-growing segment of MFT:
End-user transfers with email plugins
Collaboration spaces in MFT systems
Lesson 7: "At Rest" Encryption
Covers UDP-based file acceleration and related techniques for transferring large files quickly:
Why UDP is preferable over TCP for large transfers
Multi-threading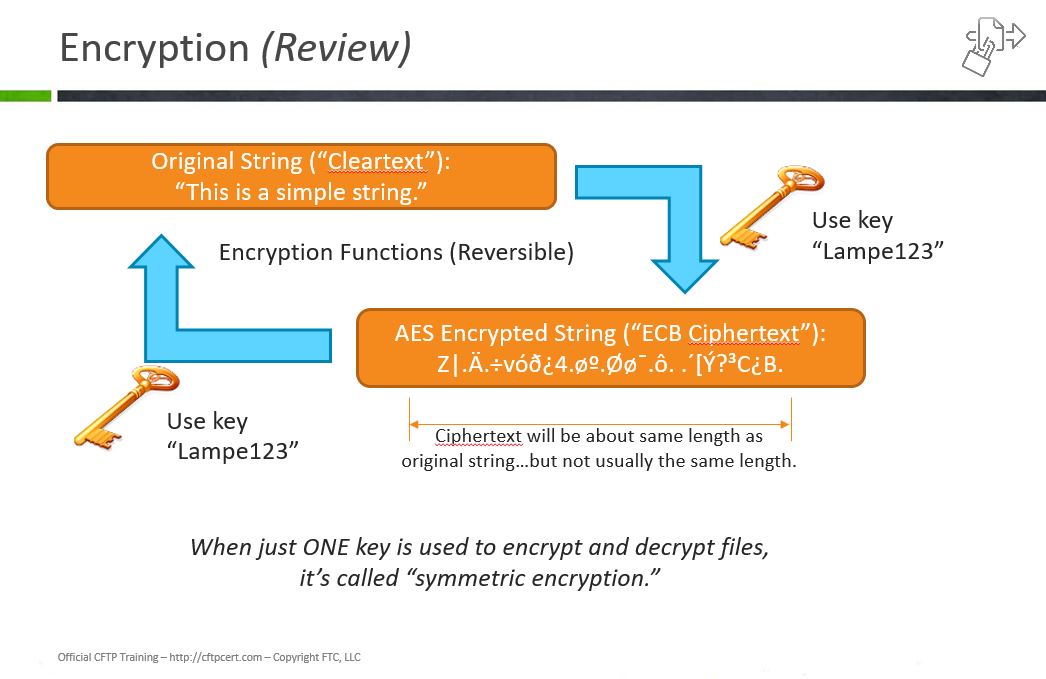 Lesson 8: File Transfer Operations
Exploration of the less well defined areas of MFT
Troubleshooting transfer
Service level agreements
Workflows
Scheduling and triggers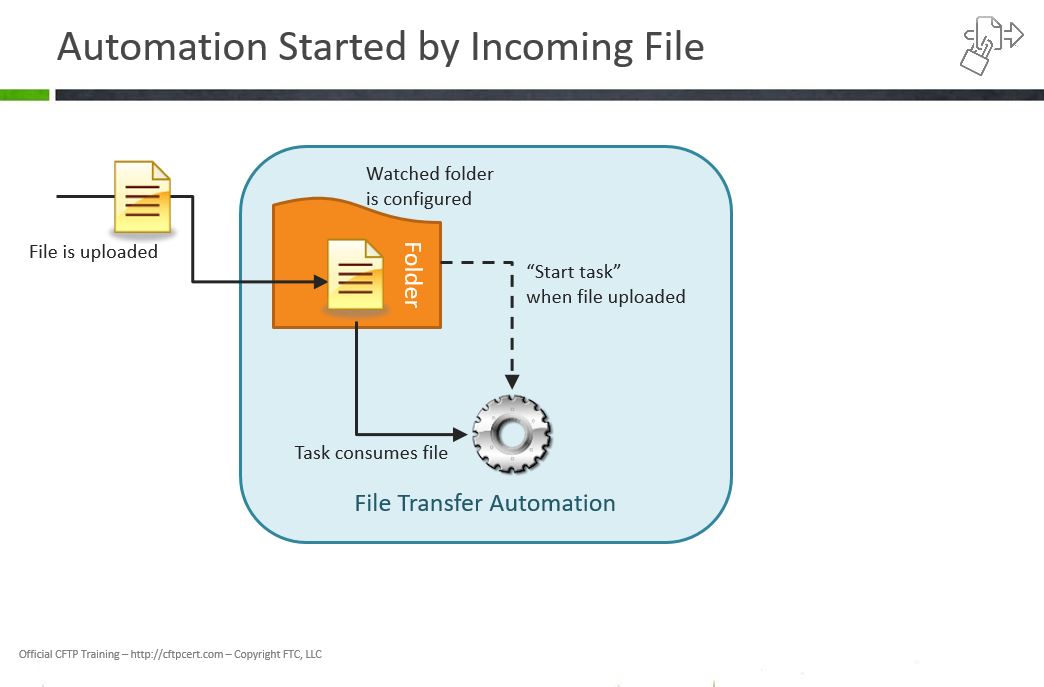 CFTP advisors and contributors
An expert panel has contributed to the CFTP course content, reviews and updates. This includes developers of JSCAPE, South River Technologies, Coviant, Ipswitch (now Progress), Serv-U, SolarWinds and other products. We would like to thank all our consultants, vendors and other experts for their valued input.






Up to 4 users - $299 per student
Purchase the online CFTP course for yourself or your colleagues. Upon purchase, we will contact you to set up your colleagues' access.

Five users or more - Prices depend on the number of users
Organisations who want to purchase five or more places for CFTP training are offered discounted pricing and bespoke course delivery options.