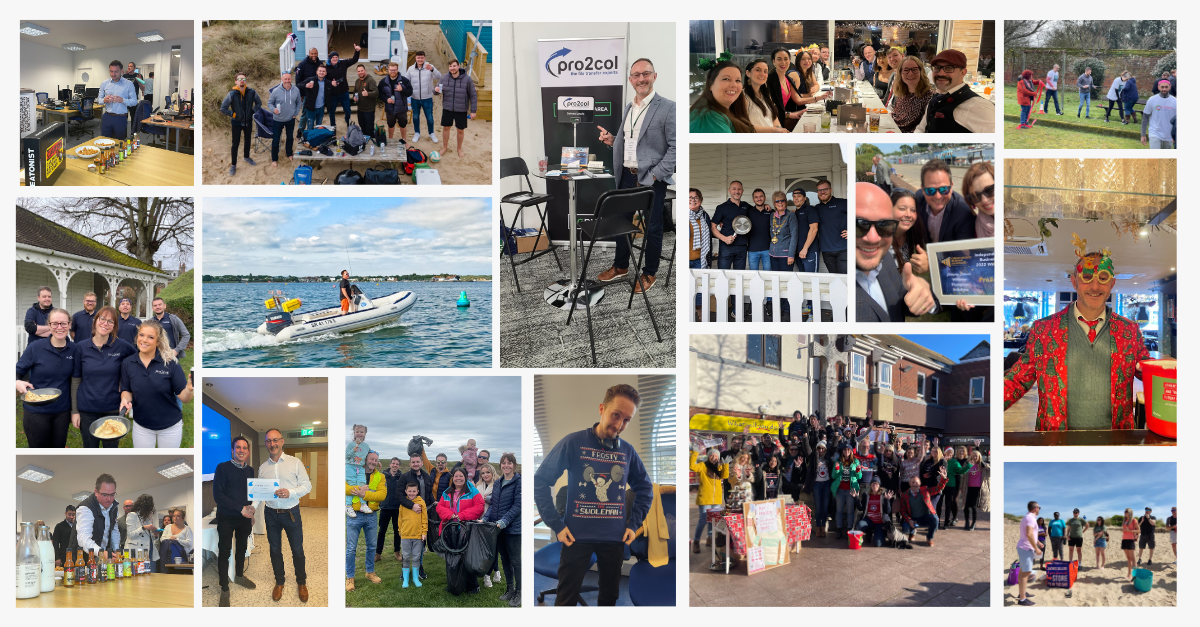 As the sun sets on FY 2023 and rises on FY2024, it provides me with the opportunity to reflect on last year. And what a great year it was for us.

We've continued to invest in and grow our team, enabling us to further professionalise our client proposition and capability to deliver. We're not the finished article but I'm proud of the progress we're making. As an organisation we're primed for greater success in the future.
Financial Achievements
Closing out the last FY I was delighted with the dedication of the whole team to get to our target, which they achieved in the final week of the year, pushing on past it to achieve 32.5% growth.

The team smashed all records in their path:

✅ Largest direct deal
✅ Biggest month revenue and gross profit
✅ Biggest quarter revenue and gross profit
✅ Biggest year revenue and gross profit

Greater Choice
With more businesses contacting Pro2col about their file transfer requirements, we took the decision to further expand our portfolio with additional vendor partners and services. This year Pro2col partnered with Axway, an industry leading managed file transfer software vendor, to provide yet more choice via our team of experts, ensuring Pro2col has the widest selection of solutions to choose from globally.
Additionally, we launched our own UK-based, software hosting platform, CloudMFT which provides Pro2col's clients the option for their solution to be entirely managed by our team.
Challenges
The year was not without its challenges though. We tragically lost our friend Nuno in September which rocked the business to its core. Thankfully, with time we pulled together, bouncing back, and in naming one of our rooms the 'Gaspar Suite' he will never be forgotten.
Replatforming Pro2col
We completed another significant piece of own eighteen-month, digital transformation journey; moving from one CRM to another is not a task the team would want often but it will help us to better service our growing client base.
In that time, we've also been moving to a more data driven business enabled by our growing Senior Leadership and Management teams. We're slowly introducing PowerBI to mine our data for meaningful and useful insights to better manage all aspects of Pro2col.
Doing the Right Thing
This year we created a Communities & Social committee, which for me was a significant achievement. Not only have we grown a team that live and breathe our values – Community, Committed, Curiousity, Charity – but a group that enjoy spending social time together. Validation that we're on the right path to building 'a team that plays together and wins together.' I've long believed that work is an enabler for so many other things and creating great friendships as well as doing good in our communities is paramount for my personal enjoyment at work.
Numerous fundraising events saw us, and our communities raise a commendable £4,879 for various charities, the highlight ranking Pro2col the eleventh largest fundraiser nationally for Save The Children's Christmas Jumper Day. Quite some achievement for a small team!
Further community activities included working with The Grange School in Christchurch and Bournemouth & Poole College helping students prepare for the world of work. Organising a Pro2col team beach clean and inviting one of our partners, Softcat to join us. Clearing sections of the Stour Valley way neglected by the council for three years. Various team members providing technical support to local homes, fancy dress days an inflatable run for team and family members, and so much more.
Just the Start
I feel truly blessed to have been able to build (with a lot of help) a company with such great people, values, principles, and opportunity ahead. Now I'm in the enviable position to be able to step back and watch our team take the business forward, growing it whilst 'doing the right thing' by our colleagues, clients, and communities. Whilst we're nineteen years old, I'm confident we're just at the beginning of our journey.
Thank you to all my team at Pro2col, our clients and partners for making the past year so special. This coming year I'm confident we'll be able to positively impact so many more people whilst continuing our journey of growth and professionalisation.