When with friends I regularly get asked what my company does, when I reply 'we specialise in file transfer technologies for businesses' I usually get a rather blank expression, followed by the question; what is file transfer? For their benefit I thought I'd write an explanation to share with them, feel free to share it too. To understand what file transfer is, we need to define what a file is. Generally speaking a file is a electronic document, which could be stored on your computer, laptop, tablet or mobile device. A file can be many different formats and sizes, e.g. PDF, XLSX, EPS, ZIP to name a few formats. The size depends upon the file type and content within it.
So, what is file transfer? Well quite simply its the process of moving a file from one location to another. It could be that you need to move if from your desktop to your laptop, or more commonly with the companies we work with, company A needs to share a file with company B. When this is the case a file is typically sent over the Internet or over a private network.
What is file transfer?
There are many different types of file transfer but there are two main ways in which files are transferred. Person to person (also called Ad Hoc File Transfer) or Business to Business (also called Managed File Transfer). I won't go into the many ways in which these technologies work or the various vendors we work with, otherwise I'd be here all day. Closely following the, 'What is file transfer question?', I get the 'Why?' question. Well, there are many reasons but in the most part it can be distilled down to two of the most important benefits, guaranteed deliverability and security. The exchange of information is key to the running of most businesses and a great deal of data that is exchanged is either sensitive or business critical, therefore ensuring that your information got to who or where it needed to be safely is key to enterprise file transfer solutions. If following reading this you think you might need a file transfer solution, why not download our comparison guides for Ad Hoc or Managed File Transfer.
If you'd like to speak with a specialist either in the UK or US, get in touch via our contact form or give us a call today.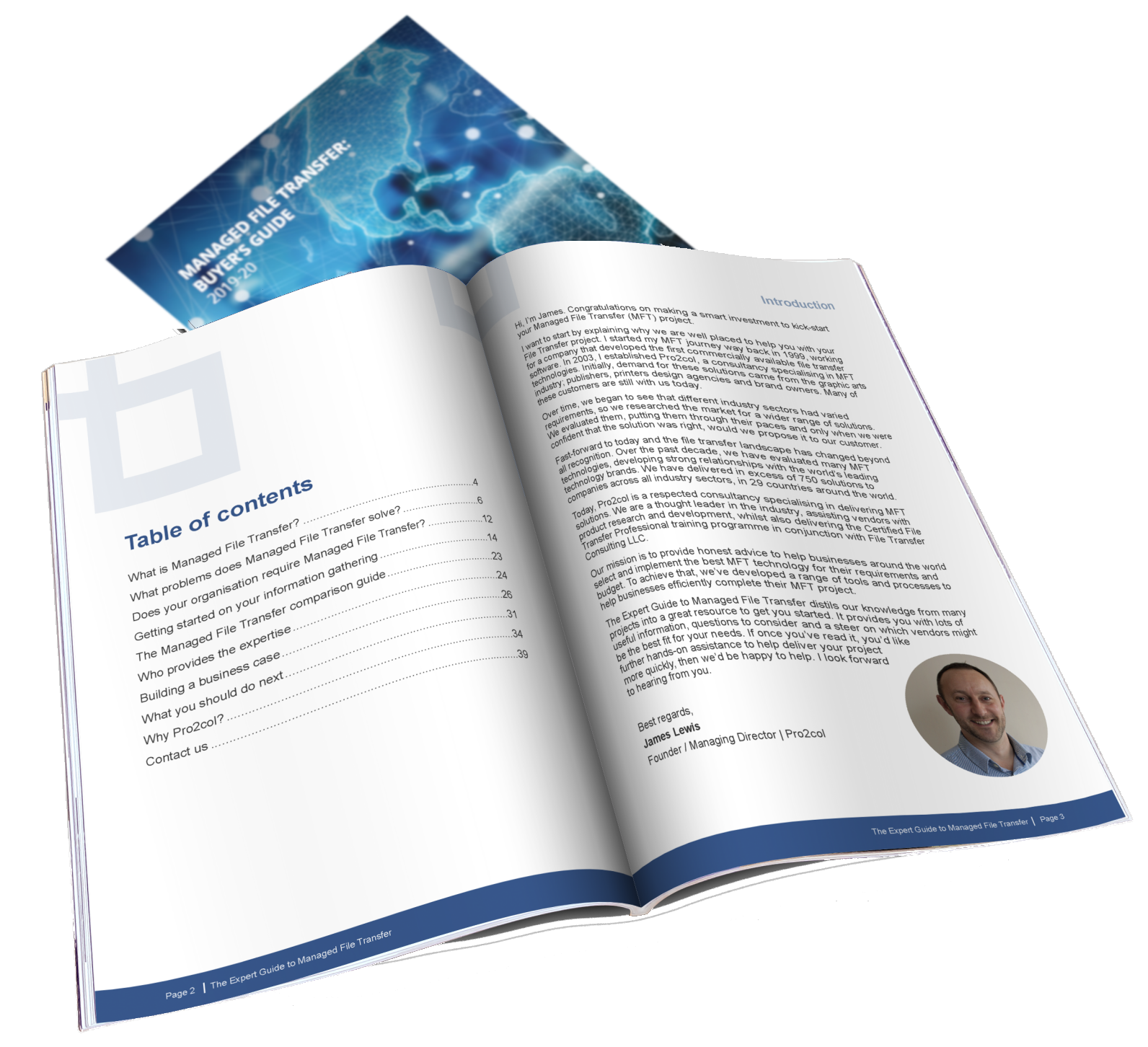 Managed File Transfer Buyer's Guide – Start your research here
What is MFT and how does it enhance security, productivity, compliance and visibility? This free guide is compiled from 16+ years' experience. It includes definition, product features & use cases.